Rebar is a steel bar that is used in concrete construction. By adding these reinforcing steel bars, you're creating reinforced concrete. Whether your project includes floor slabs, walls or posts, rebar helps keep cracks that form from making the project fall apart. Though all concrete cracks, rebar, and reinforcing materials help control where and the extent of the cracks. It also provides structural strength to the project.
Carbon steel rebar is the backbone of concrete work. It's used in the majority of concrete pours. Why? It has a lower cost and provides solid strength.
Glass fiber reinforced polymer GFRP is an alternative to traditional steel rebar. Using fiberglass, the rebar is created in sticks to provide reinforcement. It's stronger in terms of tensile strength.
Galvanized rebars are used in situations where corrosion can be a problem. The rebar is coated with zinc using several different processes. These can include cold plating, hot plating or electroplating. The zinc provides a protective barrier over the steel.
Stainless steel rebars are used in corrosive environments where zinc can't be used due to its galvanizing effects. It tends to be more expensive than galvanized rebar. For this reason, it's only used when absolutely necessary.
Epoxy coated rebar is a modern, economical option for corrosive environments. The rebar is coated in epoxy to protect it from corrosion. However, it may not be the best bet in environments where shifting subgrade, cracks or mechanical motion may damage the protective coating, allowing corrosive materials access to the steel.
European rebars are simply measured in different formats than what we see on American markets. They still provide solid reinforcement of your structural concrete.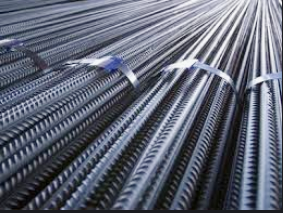 Specifications of railways R50 / R60 / R65:
 Second Quality-Railway USED.
RAIL STEEL NO.1. STANDARD SECTION TEEL RAILS, ORIGINAL WEIGHT 50 POUNDS PER YARD,
OVER HEAVIER, 120.50 M RAILS
STEEL NO. 2. CROPPED RAILS ENDS, STANDARD SECTON, ORIGINAL WEIGHT 50 POUND PER
YARD AND OVER 12.50 METERS LONG.
28)B) (28C) RAIL-STEEL NO.2 T- RAIL ENDS STANDARD SECTION – ORIGINAL WEIGHT 50 POUNDS
PER YARD AND OVER 12.50 POUNDS PER YARD AND OVER 12.50 METERS – RAIL, STEEL NO.3,
STANDARD SECTION FEE, GENDER, AND / OR GUARD RAILS, FREE FROM FROG AND SWITCH
RAILS NOT CUT APART, AND CONTAIN NO MANGANESE, CAST, WELDS OR ATTACHMENT ANY
KIND EXCEPT ANGLE BARS ALSO RAILS, NOT FOUND AND WITHOUT RADATION AND EXPLOSIVE
SUBSTANCE…
1.0M (1.0 – 1.5M (RAIL FERROUS
 (R 5O / R 65)CHEMICAL COMPOSITION SHALL BE ACCORDING TO:
R65 GOST 8165.75 WEIGHT 64.72 KG / METER.
– C = 0.54% _ 0.82%
– SI = 0.18 _ 0.40%
– MN = 0.60 _ 1.05%
– S = 0.04% _ MAX
– P = 0.035% AS – 0.01 MIX OF MASS SHARE
R50 GOST 7173.75 WEIGHT 51.67 KG / MATER.
Devolker will help you to export it to any port in the world wherever our valued customer
required.
Steel Billets are the raw material for
producing long-steel products. They are
produced in various grades and standards
based on customer requirements.
Devolker will help you to export it to any
port in the world wherever our valued
customer required.



Asphalt paving cements
The binders for the more expensive asphalt
pavements are usually asphalt cements
These semis olid materials are also separated
into grades having different ranges of
hardness
Asphalt canal liner and bank erosion control
The versatility of asphalt has led to its
employment in many types of hydraulic
structures
Mixes made with the harder asphalts

The term bitumen is a generic name applied to various mixtures
of hydrocarbons
They may be gaseous, liquid, semisolid, or solid
Most common materials within the family of bitumen's are
tars, pitches, and asphalts
Destructive distillation is carried out on natural materials
produces tar
Partial evaporation or fractional distillation of tar produces
the solid or semi-solid residue of pitch
Asphalts are dark brown or black solids or semi solids which
are found in the natural state and are also produced by the
refining of petroleum
Some natural deposits of asphalts are found in Kentucky,
Utah, Colorado, and California
95% of asphalt materials used in North America are derived
Trom the refining oT petroleum


Asphalts are the most common and most widely used bituminous
materials
The term "asphalt" refers to a black cementitious material which
varies widely in consistency from solid to semisolid at normal
temperatures
Asphalts are found as natural deposits or are produced from
petroleum crude
The classification of asphalts is already presented in the previous
slide
Natural Rock asphalts are rock deposits containing bituminous
materials which have been used for road surfaces in localities
where they occur
Native asphalts are obtained from asphalt lakes in Trinidad and
other Caribbean areas, these were used in some of the earliest
pavements in North America
Petroleum asphalts are products of the distillation of crude oil
These asphalts are used as the most common bituminous paving
materials
Devolker is helping you to export your orders of Petroleum Products to any port in the world as CIF.